The modular system enables you to combine different transport line elements, select conveyor belt sizes and materials as well as adjusting movement speed and the number and height of transport levels. All NIEROS® transport system solutions include a digital control system and many additional functions for your production process to exhibit superior performance.
ROLLER TRANSPORTERS
NIEROS® roller transporters are designed for efficient transportation of full or empty Euro stacking containers or plastic crates, Euro-pallets, boxes and trays in any production process. You can choose from different drive modes, materials and dimensions (width and height levels) to find the conveyor solution that best fits the needs of your industry and production process.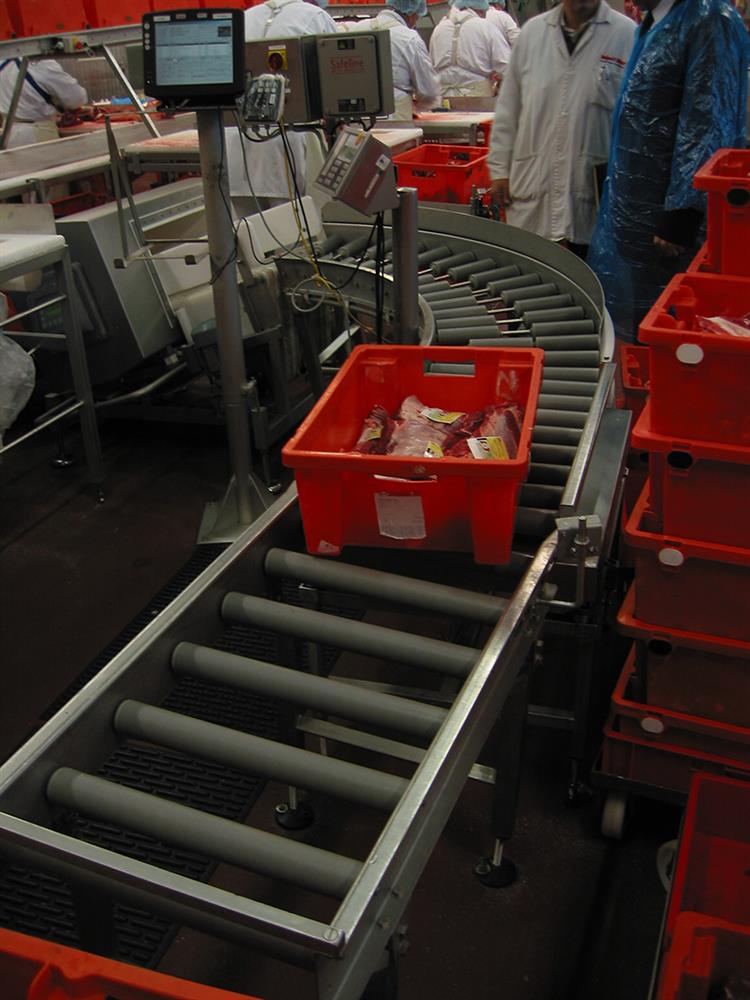 SLAT BELT CONVEYORS
NIEROS® slat belt conveyors are designed for efficient transportation of full or empty Euro stacking containers or plastic crates, Euro-pallets, boxes, and all types of raw food materials and packed products in any production process. Motor-driven and available in different dimensions (width and height levels), they are the perfect conveyor solution for your industry and production process.
VERTICAL, INCLINED AND MULTILEVEL HORIZONTAL TRANSPORTERS
The production processes vary in size and complexity as well as in industry or technology specifics.
When the space in a production area is limited or organized in different floors, flexible vertical and inclined transporters or multilevel horizontal transport lines are your first choice.
NIEROS® provides all types of fully customized vertical and inclined lift transporters and transport systems, organized in different height levels that save and optimize the space available, effectively transporting the items to different levels.
WAREHOUSE MANAGEMENT SYSTEM
NIEROS® intralogistics transport systems range from simple to fully automated using a computer-controlled warehouse management system (WMS) enabling you to manage and improve your warehouse efficiency, reduce costs and make the most of the space available. Its comprehensive digital monitoring provides quick and effective traceability of transported items that move along the production line and across the warehouse, allowing you to check the items' content and current location at any given time as well as the previous and the following transport direction.
CONTROL STATIONS (I- AND C-POINTS)
Control stations (control and identification points), available with both motorized and manual roller conveyors, are a crucial part of any intralogistics system, enabling smooth material flow and accurate traceability of transported items. NIEROS® provides comprehensive control solutions, fully customized to the needs of your company.
STORAGE BUFFERS
NIEROS® storage buffers are designed for temporary storage of clean and empty Euro stacking containers or plastic crates, Euro pallet boxes and boxes. Capable of stacking numerous items, they are a first-class solution for any business that aims to fully utilize its production and warehouse space.
PNEUMATIC PUSHER
All NIEROS® transporters can be equipped with a pneumatic pusher that directs the items to their designated conveyor belts, creating synchronous and stable material flows by time and quantity for a supply chain with the highest throughput rates.
PALLETISING—STACKING AND DESTACKING DEVICE
NIEROS® provides stacking and destacking devices designed to handle Euro-pallets, Euro containers or plastic crates safely and efficiently. They are integrable with other NIEROS® intralogistics solutions to provide impeccable material flow and continuity, fundamental to the success of your production.